Description of the hike
[Back to full text]
We will drive to the Austrian-Slovenian border and begin our ascent from the Ljubelj Pass (1058 meters above sea level) following a stunning route through the Born Tunnel (a spectacular century-old 250-meter tunnel dug directly through the mountain) and along the slopes offering a scenic view of the valley and prominent peaks.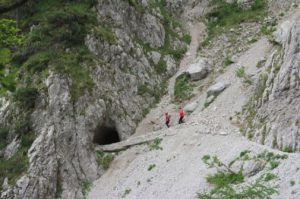 We will reach the Prevala alpine pasture after 1.5 hours of walk (and 250 meters worth of ascent) and split into two groups. One will enjoy the good eats and splendid views of the Prevala alpine cottage, whereas the second will attempt a steep climb to Begunjščica via the aptly-named Calvary. It will take us additional two hours to reach the summit, at which point we will be able to choose to return to Prevala or go via a different path that will bring us to another cottage (Zelenica) and back to the starting point. The descent takes about two hours, regardless of which path we choose.
In terms of technique, the hike is by no means difficult, but you will require good hiking shoes, sunscreen, stamina and plenty of water. The initial part of the path goes around the slopes of the mountain, so it may prove difficult for those who don't have a good head for heights. However, you will be accompanied by experienced mountaineers every step of the way.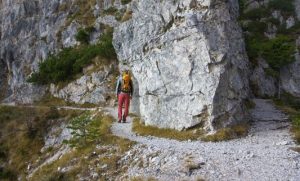 Equipment
sturdy hiking boots

comfortable clothes (in layers, this side of the mountain can get quite hot in July but can be quite chilly and windy on the summit)

rain gear (anorak, no umbrellas please)

headlamp (we will be walking through a 250 m long unlit tunnel)

water bottle

snacks/fruit
Google form
https://docs.google.com/forms/d/1Go-AmqI93OOspPiz71pSC6v0dVfw7egKCtyjZKjkBxE/