ALINA SECARA
University of Leeds, UK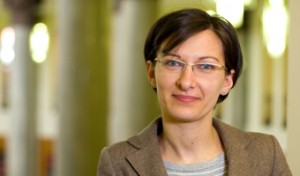 Programme Manager of the MA in Audiovisual Translation Studies at the Centre for Translation Studies, University of Leeds, Alina Secară teaches computer-assisted translation and audiovisual translation. A professional captioner, she provides captioned performances at the West Yorkshire Playhouse and has experience as in-house translator. Alina played an active role in the creation of e-learning translation training materials for various European projects including eCoLoTrain and eCoLoMedia. She delivers translation memory and subtitling short courses for professional associations, captioning awareness events for theatres, hands-on translation seminars at universities across Europe and publishes on topics relating to translator training.  Alina's current research investigates reading behaviours in fansubbing environments using eye-tracking technology and the integration of speech recognition and lecture capture technology in higher education contexts.
At TransTech 2015 she will be giving a course on Audiovisual Translation, focusing on subtitling.
DRAGOS CIOBANU
University of Leeds, UK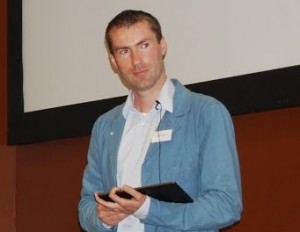 Dragos Ciobanu is a Lecturer in Translation Studies specialising in Computer-Assisted Translation (CAT) tools and he runs the MA in Applied Translation Studies (MAATS). He is also an instructional designer and certified learning technologist using his background in languages and technology to produce effective interactive multilingual, multimedia online resources. Dragos Ciobanu works a lot with CAT tools such as SDL Trados Studio, MemoQ, SDL Passolo, Wordfast, Deja Vu X3, and OmegaT. He is interested in ergonomics, particularly in the integration of Automatic Speech Recognition tools into professional translation workflows, as well as in cross-disciplinary approaches combining CAT, corpus, assistive and e-learning technologies in order to increase language service provider productivity. His aim is to use his background in languages and corpus linguistics together with his experience in making the most of learning and teaching tools for the benefit of language service providers everywhere. He has been involved in several large-scale collaborative projects in the field of CAT-tools training, interpreter training and global online training funded by UK institutions, the EU, or international organisations such as UNICEF: eCoLoRe, MeLLANGE, NNI, ORCIT, WASH.
At TransTech 2015 he will be giving a course on Translation Environment Tools, focusing on memoQ.
OLIVER ČULO
University of Mainz, Germany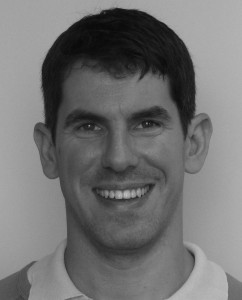 Oliver currently holds a teaching and research position at the Translation Faculty at Mainz University. He attended Saarland University, where he received his diploma in computational linguistics and his PhD in machine translation. His thesis work focused on developing ways of automatically comparing verb valence between English and German using parallel corpora. During a one-year stay at ICSI in 2011 and 2012, he worked with researchers in the FrameNet Project, who are building a lexical database based on frame semantic analyses. He is interested in how grammar and semantics interact in translation.
At TransTech 2015 he will be giving a course on the Translation-oriented Corpus Engineering.
BARTOLOMÉ MESA-LAO
Copenhagen Business School – CRITT, Denmark
[Photo]
Bartolomé Mesa-Lao is a research affiliate at the Center for Research and Innovation in Translation and Translation Technology (CRITT) – Copenhagen Business School (Denmark). He is also a visiting lecturer at the Universitat Autònoma de Barcelona (Spain) and the Università degli Studi di Genova (Italy). He holds a PhD in translation technologies and has conducted empirical research into the impact of computer-aided translation and post-editing workflows on target texts. His current research interests are in translator-computer interaction, translation technologies and the changes brought about by processes of globalization in translator training.
At TransTech 2015 he will be giving a course on Post-Editing Machine Translation.