The 2018 Adam Kilgarriff Memorial Hike: Prevala (1311m) and Begunjščica (2060m)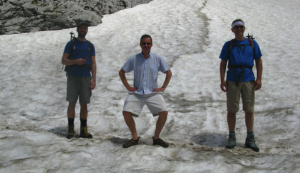 Date: July 22, 2018
Start: 8am from Ljubljana, 9am from the starting point (the Ljubelj/Loibl Pass)
Duration: 1.5 hours to Prevala, 3.5 hours to Begunjščica (optional)
Difficulty: Easy walk to Prevala, steep but safe climb to Begunjščica

Organization: Darja Fišer and Damjan Popič
The Euralex Conference in Ljubljana coincides with the 5th anniversary of our last hike with our dear friend and inspiring colleague Adam Kilgarriff which we did just before driving together to the Euralex conference in Bolzano (15-19 July 2014). We hiked to the summit of Grintovec (2558 m), a strenuous hike even for experienced mountaineers, which Adam climbed in his sandals. Not only did he reach the summit first, he also offered to carry our backpack! I don't remember ever seeing him happier than on that mountain.
The Slovene Language Technologies Society has been organizing a hike in Adam's memory since then. On this occasion, we wish to invite the Euralex participants to join us on a beautiful hike to the Slovenian Alps we are certain Adam would have loved. The first part of the hike is easy, with lots of beautiful vistas, a tunnel and a mountain hut with great food. If you want a more challenging hike, you can also choose to continue all the way to the top of Begunjšica, a summit over 2000 meters above sea level.
The transportation from Ljubljana to the Ljubelj Pass and back is kindly sponsored by Lexical Computing. Please bring your own drinks and food (can also be purchased at the hut). In order to be able to organize the hike safely, registration is required by 1st July 2018. The hike is family friendly and everyone is welcome but please register each hiker separately.
If you have any questions about the hike, please send an email to sdjt@ijs.si.